some Christmas holiday info I overheard from a bunch of people.  I personally never had Christmas in the NL: but very looking forward!
Xmas  in the Netherlands is celebrated two days in a row, 25 and 26 December. Celebrating at the eveningof 24 is not common.
Happy holidays!
Fijne Feestdagen – happy holidays
Vrolijk Kerst/Kerstfeest – Merry Christmas
Prettige Kerstdagen or Prettig Kerstmis – Enjoyable Christmas Days/Merry Christmas
And a very interesting thing I read about:
Gourmetten
Wikipedia explains it best (but in Dutch)))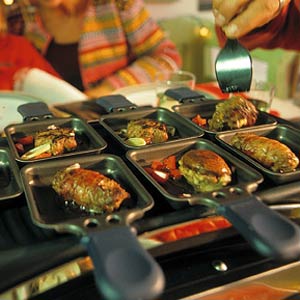 Apparently that is very Dutch Xmas thing
When the whole family together cooks around the table! I never expierenced it myself, but very curious! I like the concept that one person does not have to cook, but you will finish the cooking together.
Christmas decorations
kerstroos- poinsettia
maretak – mistletoe
Kerstboom – Christmas tree
Kerstballen
Een slinger
Lampjes
Kerstkransjes
Een piek
BONUS
2015 Christmas speech of the King:
Video: http://www.zie.nl/video/royals/Koning-doet-beroep-op-tolerantie-in-kersttoespraak/9jtz207fa0nx
Text: http://www.nu.nl/binnenland/3961689/integrale-tekst-kersttoespraak-koning-willem-alexander.html
It is very clear so you can practice your listetening. even though I had to google translate it. hahaah XD
Special thanks to the community in the Duolingo Dutch Learners group for responses to our qestions!
any other useful words / traditions worth mentioning? share in comments!